Board
2020 Board Members: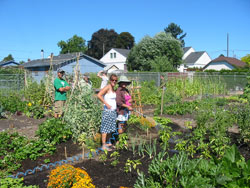 Leslie Pohl-Kosbau, Co-Chair
Michael Wade, Co-Chair
Catherine Trevison, Secretary
Judy Koonce, Treasurer
Tess Beistel
Allen Field
Anna Goldrich
Mary Jean Hulbert
Claudia Schechter
Carol Tompkins
Liaisons to the FPCG Board
Kelley.Rosteck@portlandoregon.gov (Coordinator, Parks & Recreation Community Gardens Program)
Friends of Portland Community Gardens Seeks Board Members
The Friends of Portland Community Gardens is seeking new Board Members. We are an all-volunteer board and formed as a non-profit 501(c)(3) organization in 1986. Our Mission is to support and expand community gardening opportunities in Portland and to build community around gardening. 
The Friends work closely with the City of Portland Community Garden program and its 57 gardens, but we also work with other community gardens. We work with the City on its Produce for People Program, where community gardens donate produce to local food shelters. In southeast Portland, we donated $13,000 toward building the Mt. Tabor Community Garden.
Board Member Responsibilities
Board members are responsible for supporting the management and growth of Friends of Portland Community Gardens and maintaining the financial stability and integrity of the organization. Board meetings are held monthly (currently 2 hrs. on the 4th Thursday of the month). As a all volunteer Board, there is a significant amount of outside work required to reach our goals.
Each Board Member brings passion and energy to support and expand community gardening opportunities for all Portland-area residents to grow healthy food and build community around gardening as well as unique skills that ensure our long term sustainability.
If you are interested in becoming a Board Member, want to learn more about the organization, or want to tour a community garden, contact info@portlandcommunitygardens.org.