Coming up for Friends of Portland Community Gardens
---
COVID -19 has suspended our activity calendar for the foreseeable future – but you can expect to see us at some of the following once we can get back out in public.
---
Portland Nursery Events 
Twice a year the Friends of Portland Community Gardens teams up with Portland Nursery for important fundraising opportunities. 
In February we get into the Valentine's spirit with our greeting cards – created by own very own elves. We also sell our "Get Dirty" t-shirts and other items.
In October, at the end of the harvest season, we join Portland Nursery for their annual Apple Tasting Festival. We are usually on-site for the two weekends of the festival. Greeting cards, t-shirts, and other items are available for purchase. There is also a free candy dish for those who look beyond the delicious apple strudel.
---
Mason Bee House – Release and Training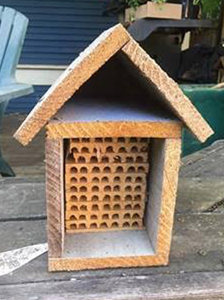 For the past several years FPCG has been encouraging the management of mason bees in the gardens. We have been building mason bee houses and distributing them to the gardens. This year we will be selling the houses.
As part of our mason bee program, we provide a couple of opportunities to learn about mason bees and their management. In the spring – before the bees are released, we have a training that covers the life cycle of the bees and how we can maximize their pollinating potential during the season – March through early June.
In the fall we have a mason been harvest session – mid to late October. At this session, we break apart the trays and harvest the cocoons that have been spun during the summer and fall. These are the cocoons that we will be distributing for the next year.
---
We occasionally will appear at other events. We usually attend the Hortlandia Festival – of the Hardy Plant Society's Spring kick-off.
Occasionally we can be found at Sunday Parkways.
Garden Openings
In the spring as the gardens are opening and the water is turned on – The Community Gardens Office conducts Orientation Sessions for the gardeners. FPCG usually attends these events and passes out the Manager Card – a gift card to the Fred Meyer stores that the manager of the garden can use to make purchases for the garden.
NEXT YEAR – 2021 – Covid willing
This year – 2021 – we hope to be working on two new programs:
New Gardens
The possible creation of a new garden in inner Southeast Portland. We will be looking for volunteers and support!
Oroweat – Spring Planting Grant
Last Spring we were fortunate to receive a grant from Oroweat to be used to support the Community Gardens Program's Produce for People initiative. Currently, 30 gardens contribute to the initiative. We hope to boost the number of participating gardens and to increase the volume of donations of vegetables to local food pantries.